the TL-12 portable phone booth reduces room noise level. The TL-12 phone booth significantly reduces ambient and acoustic noise, and helps have better phone conversations and recordings at crowed indoor events.
---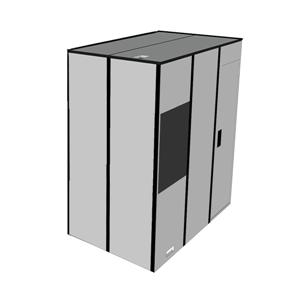 TL-12 portable phone booth rentals
our TL-12 is a portable phone booth with space for one person of average size to stand. Lightweight construction makes for easy transport. Air ventilation is optional. An assembled booth occupies 25 sqf of floor area space.
moderate sound reduction
Our TL-12 booth offers moderate sound reduction and is ideal for fast set-up and strike. The lightweight construction makes for easy transport. While the TL-12 booth does not eliminate noise, airborne sound is attenuated to provide a significant reduction in noise. For more isolation, contact us about one of our window-less N-series isolation booths.
DIMS (ext): 50" W x 82.5" H x 73.25" D.
applications:
phone booth
storybooth
privacy pod
special events
assembly:
30-40 min (1-2 people)
no tools required
a technician is recommended for the setup
availability: Please call to schedule rental.
---
brand your TL-12 phone booth
full service rentals with branding and custom printing for experiential marketing and other events.
options:
full service branding
print production
branding license with template to do your own branding
USA & worldwide rentals
we provide local rentals in New York City and offer full service rentals worldwide for trade shows, exhibits, conferences and other events. Our rental service includes booth delivery, build, breakdown and show management.
the booth panels are portable; we can deliver and assemble the booth on-site without the use of an elevator.
phone booth rental service in all major US markets, including: