L-18 rental
The L-18 portable sound isolation booth reduces room noise level. Similar to a soundproof booth, or a soundproof pod, this "iso booth" functions as a sound isolation system to contain (but not eliminate) ambient and acoustic noise.
---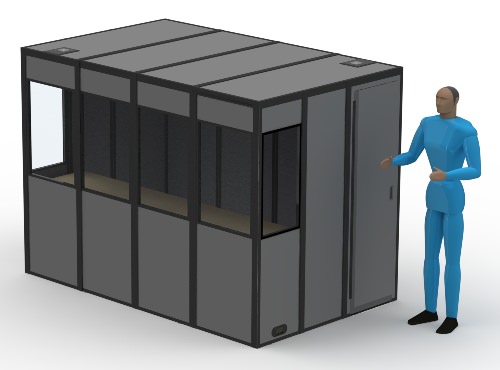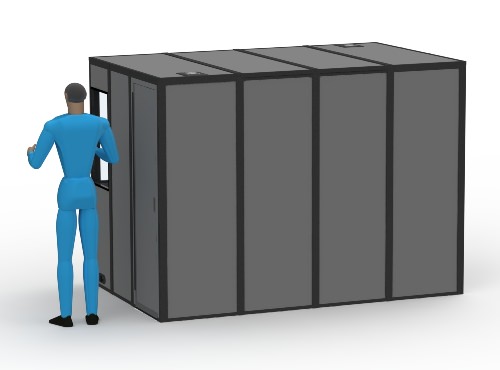 L-18 portable sound isolation booth rentals
our L-18 is a fully enclosed portable sound isolation booth. The booth fits three or four people, a table and or other equipment. The booth's lightweight construction makes for easy transport. Air ventilation and wheelchair access are optional. An assembled booth takes up approximately 43 sqf of floor area space.
DIMS (ext): 100.5" W x 72.375" H x 63" D
partial visibility
The L-18 sound isolation booth has partial front and side windows to allow the booth occupant(s) good visibility to the outside. If you want the audience to have a better view of the inside of the booth consider renting our W-18 booth or P-18 booth instead.
moderate sound reduction
Our portable sound isolation booths are ideal for fast set-up and strike. The lightweight construction makes for easy transport. While the L-18 booth does not eliminate noise, airborne sound is attenuated to provide a significant reduction in noise. For more isolation, contact us about one of our window-less N-series isolation booths.
applications:
podcast booth
vodcast booth
storybooth
interview booth
mobile broadcast booth
announcer sound booth
sound booth for reporters
mobile sound control room
privacy pod
confessional booth
mobile office
portable sound reduction room
mobile gaming booth
assembly:
40-60 min (1-2 people)
no tools required
a technician is recommended for the setup
View product info
availability: Please call to schedule rental.
---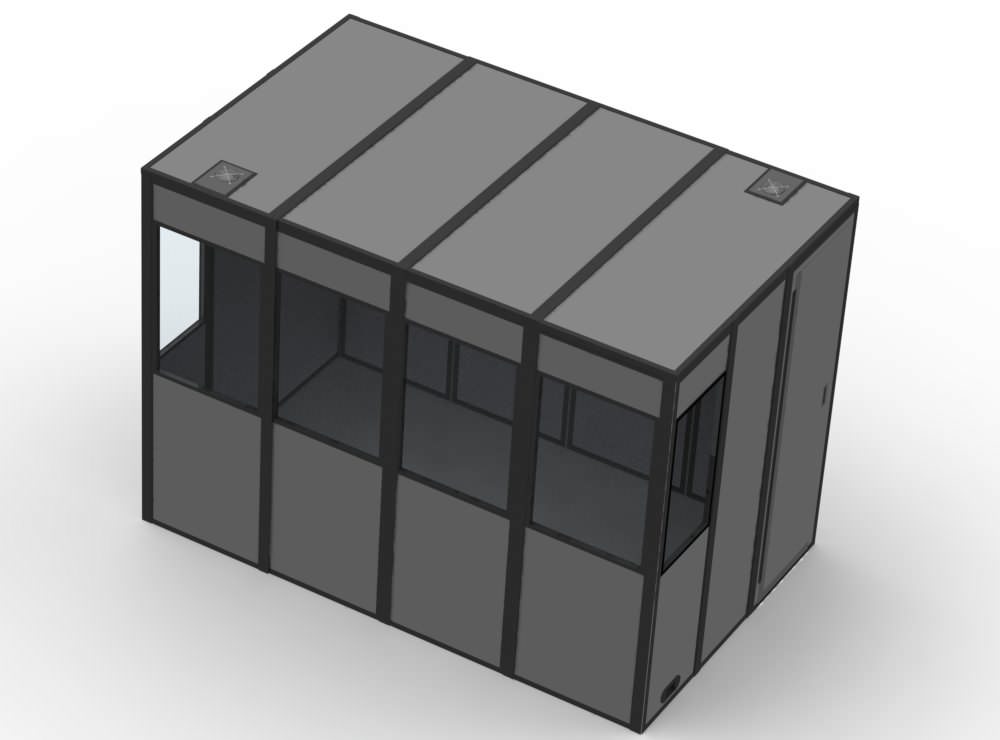 optional branding
full service branding and custom printing for experiential marketing and other events. Get in touch to view branded booth examples!
complete booth coverage
partial panel coverage
window coverage
brand windows with custom graphics: transparent visibility, blurry visibility, or complete block out.
typical leadtime: 3-6 weeks (contact us for rush).
---
USA & worldwide rentals
we provide local rentals in New York City and offer full service rentals worldwide for trade shows, exhibits, conferences and other events. Our rental service includes booth delivery, build, breakdown and show management.
the booth panels are portable; we can deliver and assemble the booth on-site without the use of an elevator.
isolation booth rental service in all major US markets, including:
Atlantic City, NJ
Aspen, CO
Atlanta, GA
Austin, TX
Boston, MA
Chicago, IL
Dallas, TX
Denver, CO
Fort Lauderdale, FL
Honolulu, HI
Houston, TX
Las Vegas, NV
Los Angeles, CA
Miami, FL
New Orleans, LA
New York, NY
Newark, NJ
Orlando, FL
Palm Beach, FL
Phoenix, AZ
Philadelphia, PA
Pittsburgh, PA
Portland, OR
Reno, NV
Salt Lake City, UT
San Diego, CA
San Francisco, CA
Seattle, WA
Tucson, AZ
Washington, D.C.