V-7 rental
The V-7 booth significantly reduces ambient and acoustic noise, and is ideal for video and vodcast recording.
---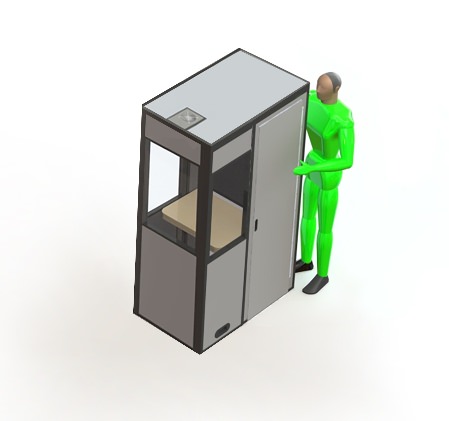 V-7 portable video booth rentals
our V-7 is a fully enclosed portable mini-booth that provides complete sound isolation for one person. Lightweight construction makes for easy transport. Air ventilation, and an integrated working surface are optional. An assembled booth occupies 7.5 sqf of floor area space.
the V-7 booth has a window on the front and partial windows on the side. Configurations are available with more windows, or no windows.
DIMS (ext): 27" W x 72.355" H x 40" D
applications:
vodcast booth
story booth
mobile broadcast booth
confessional booth
assembly:
20-30 min (1-2 people)
allow extra time for video recording set-up
no tools required
a technician is recommended for the setup
View product info
availability: Please call to schedule rental.
---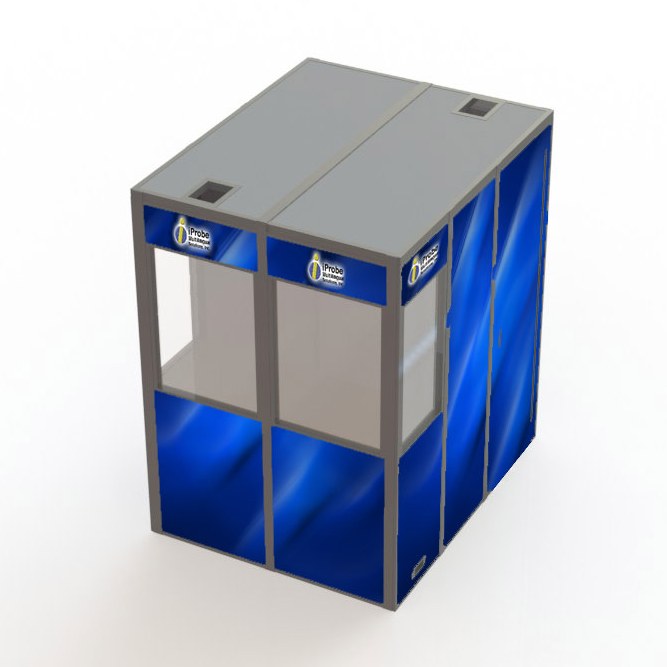 rent a branded V-7 booth
full service branding and custom printing for experiential marketing and other events.
complete booth coverage
partial panel coverage
window coverage
brand windows with custom graphics: transparent visibility, blurry visibility, or complete block out.
typical leadtime: 2-4 weeks (contact us for rush)
availability: Please call to schedule a rental.
---
USA & worldwide rentals
we provide local rentals in New York City, and offer full service rentals worldwide for trade shows, exhibits, conferences and other events. Our rental service includes booth delivery, build, breakdown and show management. The booth panels are portable; we can deliver and assemble the booth on-site without the use of an elevator.
video booth rental service in all major US markets including:
Atlantic City, NJ
Aspen, CO
Atlanta, GA
Austin, TX
Boston, MA
Chicago, IL
Dallas, TX
Denver, CO
Fort Lauderdale, FL
Honolulu, HI
Houston, TX
Las Vegas, NV
Los Angeles, CA
Miami, FL
New Orleans, LA
New York, NY
Newark, NJ
Orlando, FL
Palm Beach, FL
Phoenix, AZ
Philadelphia, PA
Pittsburgh, PA
Portland, OR
Reno, NV
Salt Lake City, UT
San Diego, CA
San Francisco, CA
Seattle, WA
Tucson, AZ
Washington, D.C.
product information
Designed by:
iProbe
Item Name:
V-7

Item Weight (lbs)
about 150 lbs

Item Weight (kg):
TBC
Shipping Weight (lbs):
TBC (View shipping rates and policies (coming soon))
Shipping Weight (kg):
TBC (View shipping rates and policies (coming soon))
Shipping:
International (see terms & conditions)
Assembled Product Dimensions Ext. WxDxH (inches):
27 x 40 x 72.375

Assembled Product Dimensions Ext. WxDxH (cm):
TBC x TBC x 183,8

Assembled Product Dimensions Int. WxDxH (inches):
25 x 38 x 71

Assembled Product Dimensions Int. WxDxH (cm):
[coming soon]
Item model number:
V-7
features
Form factor category:
Semi-portable
Number of panels:
7 (three with Plexiglas® windows)
Capacity:
1 person
Floor space area (sqf):
7.5
Floor space area (sqm):
TBC
Color (outside):

Dark grey / Light Grey
Color (inside):
Dark blue
Exterior construction:
Expanded vinyl or ABS plastic with a sound barrier of acoustic foam and insulation laminated with aluminum foil.
Interior construction:
Acoustic textile 100% polyester.
Framing:
PVC extrusion with hook & loop fastener.
Air ventilation:
optional fan (included in rentals)
Cabling:
Outlets for lighting, power, and cables
Assembly
Assembly time:
20-30 minutes (1-2 people)
Tools required:
None
Technician required:
Recommended
Storage & Shipping
Packaging:

(1) ATA-300 shipping case on wheels (or soft case)

Case weight (lbs)

82.15
Case weight (kg)

37.26

Case outside dimensions (inches):
74.750 x 21.375 x 29
Case outside dimensions (cm):
73,66 x 54,29 x 189,87
Case outside dimensions incl wheel (inches):
74.750 x 26.1875 x 29
Case outside dimensions incl wheel (cm):
73,66 x 66,52 x 189,87
Space requirements (cu):
34 ft3
×