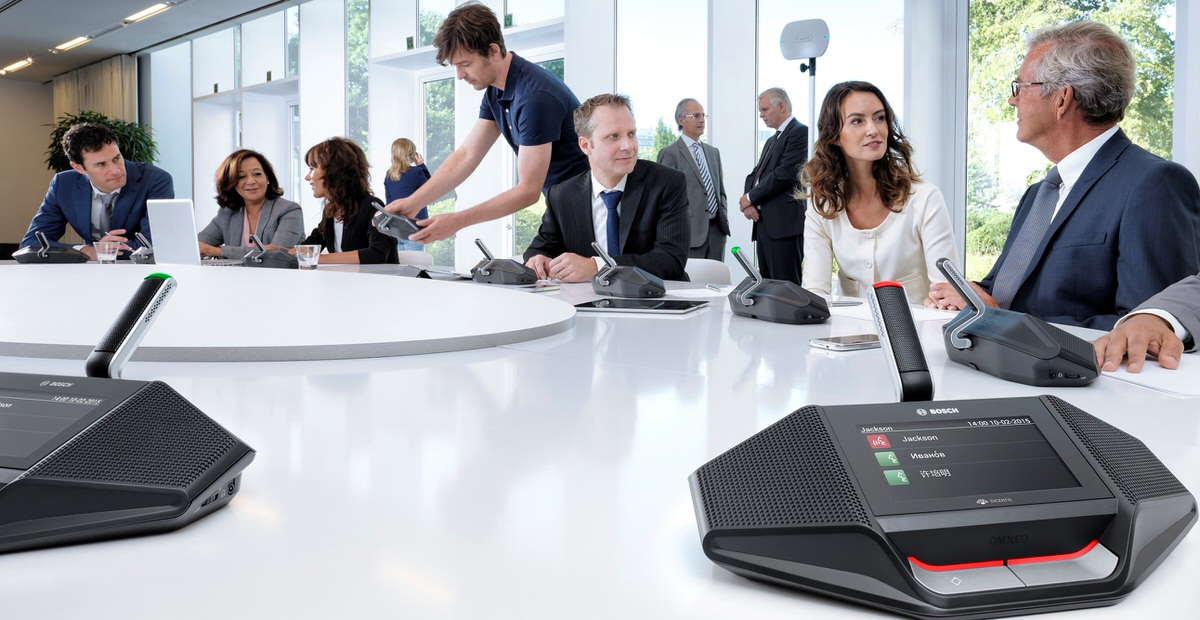 ---
DICENTIS Wireless Conference System
overview
Bosch introduces a new wireless conference system that makes conferences smoother, more enjoyable and more productive than ever before.
The innovative DICENTIS Wireless Conference System uses state-of-the-art technologies, standard Wi-Fi and smart wireless management to ensure interference-free wireless conferencing. Designed to be the most flexible discussion system available, it enables quick and easy set-up and breakdown of small meetings and larger conferences.
The Dicentis Wireless Conference System consists of a Wireless Access Point and discussion units used to contribute to a meeting. The system operates in frequency bands between 2.4000 and 2.4835 GHz and 5.180 and 5.700 GHz. The wireless devices can be set up for a single-use, dual-use or chairperson Wireless Device. The system supports a maximum number of 120 wireless units. Units are available in a standard and an extended version.
The Wireless Access Point (WAP) controls the system and can be placed or attached almost anywhere such as a wall, a ceiling or on a tripod floor stand. The battery pack life of the Dicentis system is maximum 24 hours (20% speech, 80% listening). The typical charging time of one Battery Pack is 3 hours.
based on standard Wi-Fi technology for co-existence with other Wi-Fi networks
44 channels in the 2.4/5 GHz spectrum
zero audio interference due to Smart Wireless Management (seamless floating between channels)
touch-screen participants devices with built-in NFC reader for a superb meeting experience
true Wireless Connectivity to configure and control the system via tablet or PC
best suited for
multi-purpose venues
historical buildings
rentals
Current users of DCN Wireless looking to upgrade and benefit from more channels
DICENTIS demo
as an authorized dealer for Bosch Security Systems, iProbe facilitates product demos.
Contact us to try a Bosch DICENTIS Wireless Conference System for yourself!

---
DCN Wireless (2005)
based on 2.4 GHz, when spectrum is crowded no alternative frequencies
manual switching to un-/less used frequencies
mature design style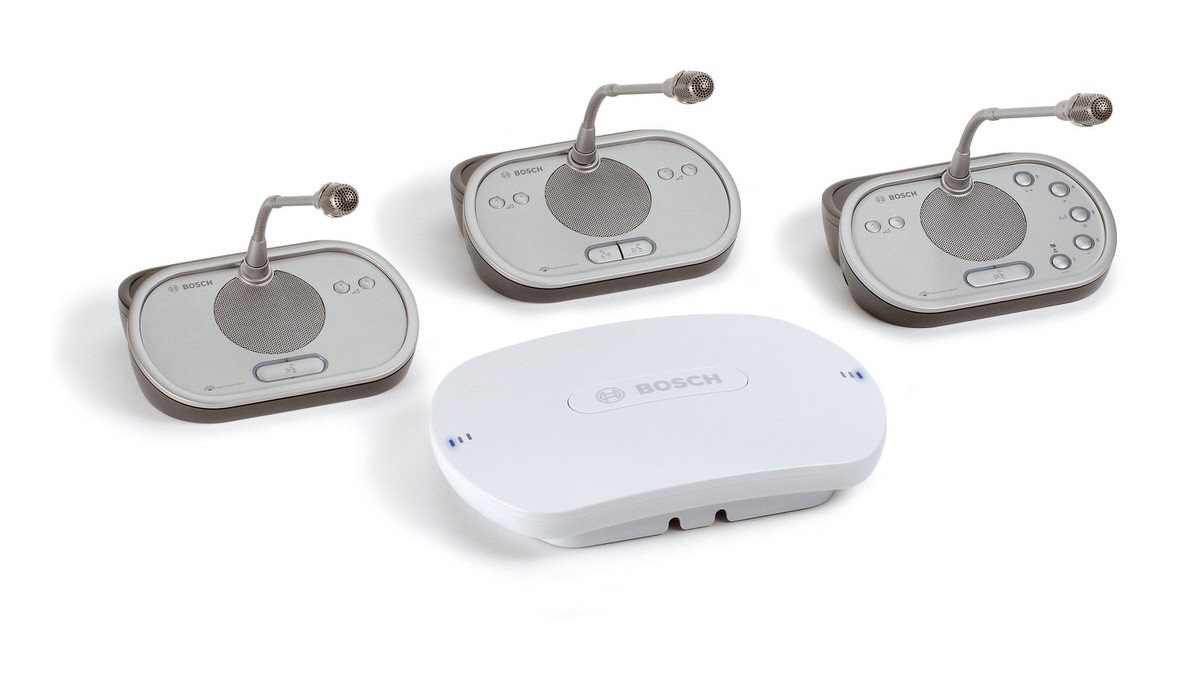 DICENTIS Wireless (2015)
2.4 – 5 GHz bandwidth
auto switching between free channels
multimedia units and integration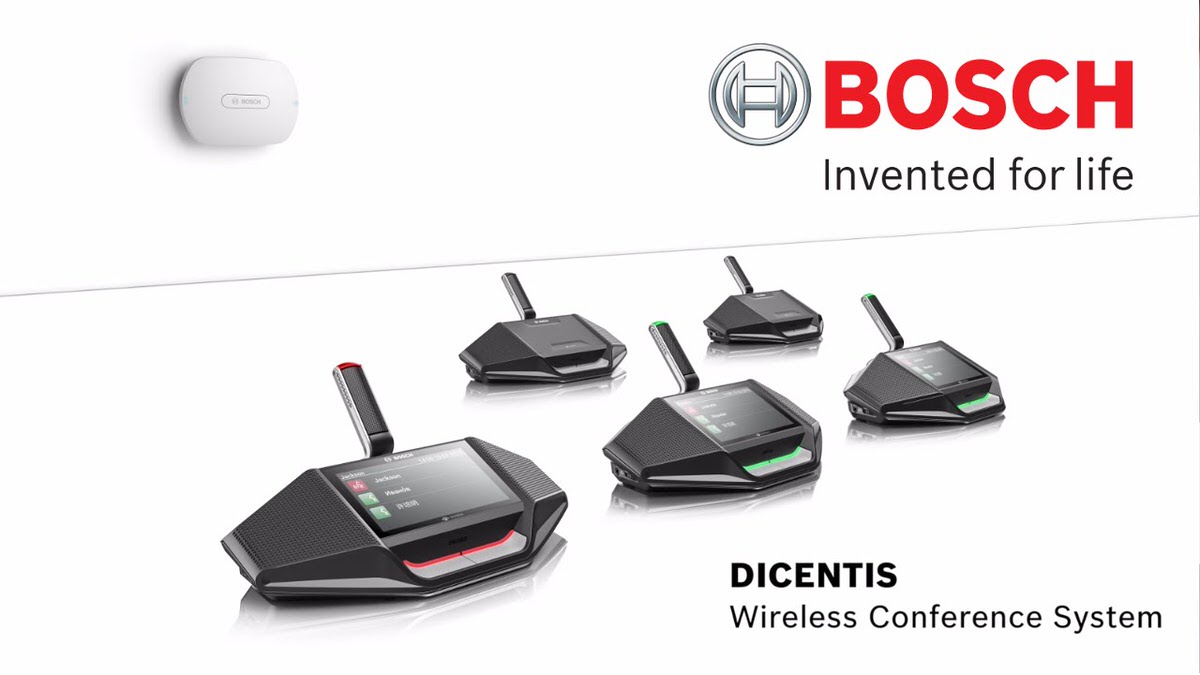 ---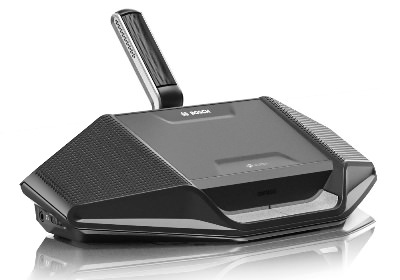 Wireless Device (DCNM-WD)
The Wireless Device (WD) enables a superb meeting experience. The device can be configured as delegate or chairman.
Wireless devices make use of pluggable microphones. Users can choose between a high directive, a short stem or a long stem microphone.
share easily via two headphone connections.
microphone button with status indication
built-in amplification for excellent speech intelligibility
HD Camera Control expandable
---
Wireless Device Extended (DCNM-WDE)
The Wireless Device Extended (WDE) offers additional control and features a 4.3 inch capacitive touch screen. A custom background and personalized company or customer logo can be added. The functionality of the touch-screen devices can easily be enhanced through software modules, for example with voting or identification using NFC card.
more benefits:
view meeting data (speaker list, request list, etc.)
voting functionality enable-ready
identification via contactless smart card (NFC).
future proof expandibility with software modules
---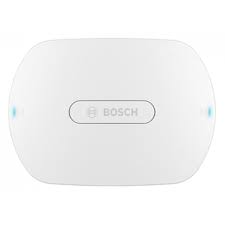 Wireless Access Point (DCNM-WAP)
the DICENTIS Wireless Access Point (WAP) has a typical wireless range of nearly 10,000 sqf (30 m x 30 m) and has a built-in easy and intuitive web browser. The WAP is powered via the included power supply unit, a PoE switch or a network cable. It comes with balanced audio in and out connections via 1/4 inch (6.3 mm) TRS.
features:
stand alone usage, no central control unit needed
balanced audio in and out for connection to external audio systems (e.g. Sound Reinforcement)
status indicator LEDs
---
Accessories for DICENTIS Wireless
DCN Multimedia High Directive Microphone (DCNM-HDMIC)
DCN multimedia Short Stem Microphone (DCNM-MICS)
DCN multimedia Long Stem Microphone (DCNM-MICL)
DICENTIS Battery Pack (DCN-WLIION-D)
DICENTIS Charger for 5 Batteries (DCNM-WCH05-US)
DICENTIS Transport Case for 8 Devices (DCNM-TC)
Software & Support
---