regular (12 ft) ceiling / small floor space (less than 20 ft)
If your event venue has a 12-ft ceiling and a small floor space of 12 ft to accommodate an eight-foot panelists' table, you have two options.
partial coverage with a banner
if you don't mind having some empty space showing behind the seated panelists (from the floor up to the panelists' head height), we suggest a banner that is four or five feet high. The empty space will mostly be covered by the table cloth and the panelists. There will also be some open space from the top of the ceiling to one or two feet under the ceiling.
a banner that is ten feet wide will fit nicely behind the panelists' table. Using a telescopic banner stand, the empty space between the bottom of the banner and the floor can be adjusted to be between four to six feet and go up to one or two feet below the ceiling or to the maximum ceiling height.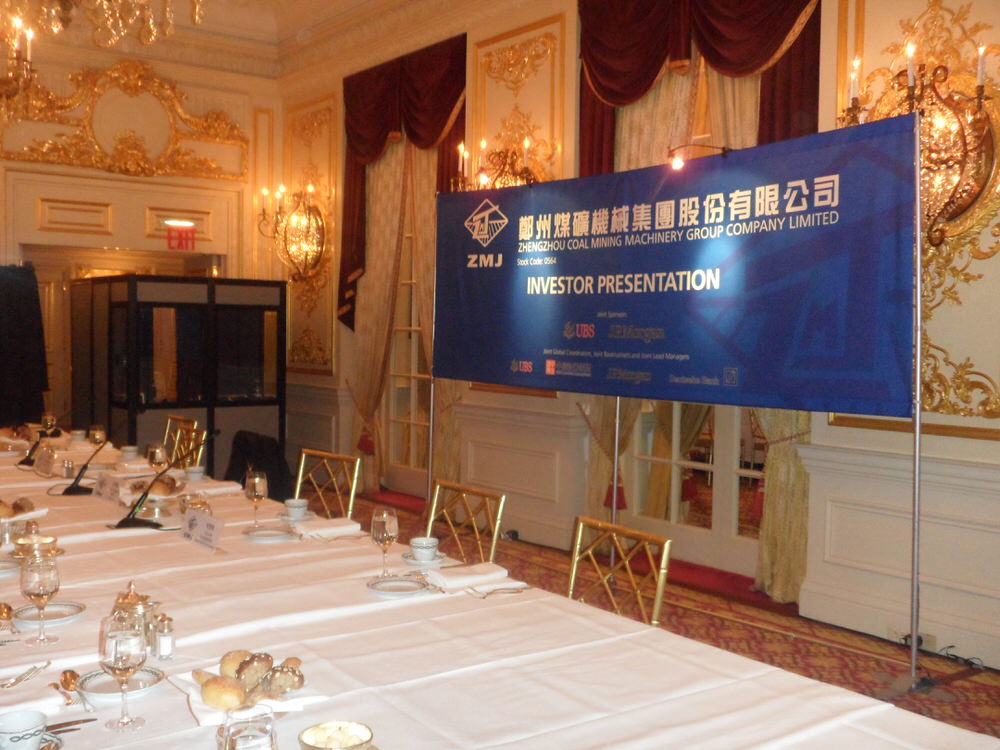 full coverage with a backdrop
if you want to maximize coverage of the area behind panelists, speakers, presenters or interviewees, we suggest a backdrop that goes from floor to eight feet or more towards the ceiling. A backdrop provides a larger area of focus than a banner. However, when choosing a full coverage, it's important to keep in mind that panelists seated in front of the backdrop will obstruct the view of the graphics or text. If there is a table, it will cover up the bottom part of the backdrop during the entire event. Plan your banner design accordingly so as not to have important information hidden from view.